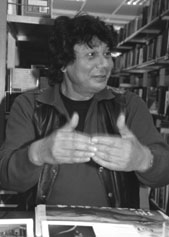 Photograph courtesy of Sue Wright (2000)
George Hallett
was born in Cape Town, South Africa in 1942. His early inspiration to become a photographer came from the movies he saw at the Friday night film show at the primary school in the fishing village of Hout Bay. On the way home, as friends enacted scenes from the films, Hallett would be thinking about the camera angles, composition and dramatic lighting that impressed him in the films. At the age of 20 he began a correspondence course in photography with the City and Guilds of London. He free-lanced for the famous South African magazine Drum but the politics of segregation made it virtually impossible to find other work. Hallett therefore decided to leave for Europe in 1970. Before his departure, the author James Matthews persuaded him to photograph District Six: an area in Cape Town about to be bulldozed 'by those mad social engineers of apartheid'. Hallett subsequently donated the work to the District Six Museum.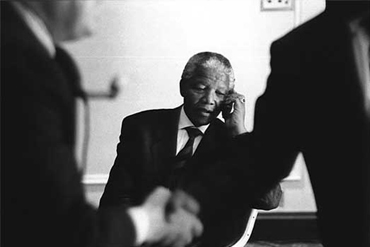 Hallett moved to London where he made contact with South African exiles like Alex la Guma, Pallo Jordan, and Dudu Pukwana. He free-lanced for The Times Newspapers and designed book covers for Heinemann Educational Books for over 12 years. During this period he had his first exhibition in Amsterdam under the auspices of the World Council of Churches.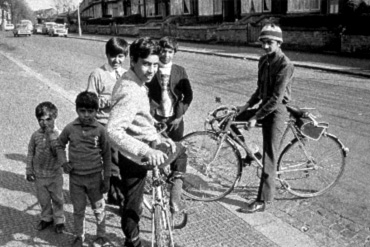 In 1974 he moved to France where he worked as a freelance photographer, designer and farmer. Over the next ten years Hallett lived and worked in Zimbabwe, Amsterdam and Paris, and taught at the University of Illinois, USA. He began working back in South Africa in 1990 and in 1994 was commissioned by the ANC to photograph the movement's coming to power. A series of photographs of Nelson Mandela taken during the elections that year won him a Golden Eye Award from the World press Photo in Amsterdam. Hallett returned to live in Cape Town, South Africa in 1995. George Hallett's photographs have been exhibited in and collected by museums and galleries in America, Norway, Germany, Amsterdam, Paris, Sweden and his native South Africa.
SELECTED GROUP EXHIBITIONS
2000 'Rhizomes of Memory', with David Goldblatt and Santu Mofokeng, Henie Onstad, Oslo 1999 ´Eye Africa Expo', The Castle, Cape Town, 1999 'Recontres de la Photographie Africaine de Bamako', Bamako 1999 'Lines of Sight: Perspectives on South African Photography', The National Gallery, Cape Town 1999 'Cape Times One City Many Cultures', Blue Route Shopping Centre, Cape Town, 1999 'Black Perspectives', SANLAM Gallery, Cape Town 1998 ´South African Architecture and Structures, portraits of survivors from District Six´, The Netherlands, South African Museum, SANLAM Gallery, Civic Centre 1997 Piazza Maggiore, 'La Cultura Diversita', with Oliviero Toscani, Bologna, 1997 'La Cultura Diversita', with Jan Saudek, Museo Ken Damy, Drescia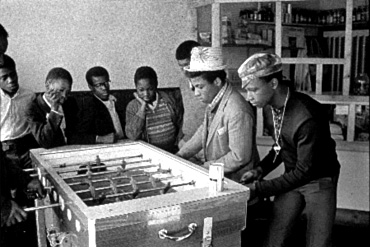 SELECTED SOLO EXHIBITIONS
2002-2003 ´Handsworth Through Southern Eyes´, Soho House Museum, UK 2001 ´IVè Rencontres de la Photographie Africaine de Bamako´ 2000 'Dance for All', Cultural Centre, UK 1999 Metropolitan Life Headquarters, Cape Town 1999 'The Face of Bo-Kaap', Bo-Kaap Museum, Cape Town, Maidenhead
Recording Angel on the Street
Pain, Power and Play

George Hallett began his career as a street photographer in Cape Town. In 1970, he left apartheid South Africa and moved to London, continuing to document the lives of ordinary people, including the Afro-Caribbean community in Birmingham, UK